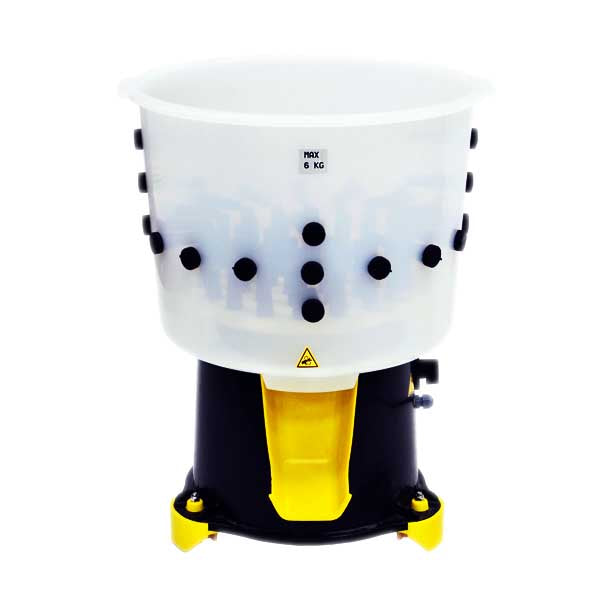 Chicken Plucker - Small
We ship australia wide - cost calculated at checkout
Description
Shipping
Reviews
The chicken plucking machine model provides a fast, effective and comfortable way with its patented design. 1-2 chickens can be plucked at once after slaughter and feather soaking.
Chicken Feather Plucker (1 – 2 chickens)
| | |
| --- | --- |
| | YL_PL01_C / Chicken Feather Plucker |
| plucking type | My watery (wet) way |
| Capacity | 1-2 chickens / 15-30 seconds (max 6 kg) |
| Engine | 200W 220V 50Hz gearmotor (power consumption max 1.35A) |
| Hair removal rate | % one hundred |
| Product dimensions | 51 x 51 x 64H cm |
| chamber diameter | 45cm |
| Package | Cardboard box 49*49*39Y cm, disassembled shipment |
| Weight | 13 kg |
| Product Documentation | CE |
| Included with the product | Water sprayer, installation and user manual |
Chicken feather plucking machine;

 

footed motor body, geared motor, rotating disc, plucking chamber,
It consists of feather discharge chute and chicken plucking fingers.
Its patented structure does not contain intermediate elements such as belt-pulley, sprocket,
so there are no problems such as lubrication, belt breakage and loosening, and
it does not create maintenance costs.
The absence of intermediate elements, the special arrangement of the plucking fingers and the extra soft finger
material reduce friction.

 

While electricity consumption decreases by up to 50%,
Thanks to the special tire arrangement, I travel more with a small number of tires and
your tire replacement costs are lower.
It is manufactured from Food Grade plastic by mold-injection method.

 

It is durable, robust and long lasting.
Chicken Feather Plucking fingers are printed from natural rubber in special structure and formulation.
It provides a comfortable way without damaging the skin.

 

It plucks young and old chickens successfully.
It leaves no feathers even on the wings and tail, which are hard plucked.
The characteristic of the machine;

 

The high pushing force (torque) reaching the plucking fingers from the reducer

 

creates
a strong finger response (impact force) and flexible plucking that occurs after sudden acceleration between the finger strings .
Small turkey, small goose, quail, partridge pheasant, and pigeon can also be plucked by holding the rotating disc by hand

 

in the plucking machine model with 1-2 chickens and 1-2 ducks capacity .
For a quality plucking, it is recommended to use a feather plucking machine specific to the poultry species.
It can be converted into a quail plucking machine by changing the rotating disc and plucking chamber.
The product is sent disassembled with a user manual and a water sprayer.
It is simple to install, easy to transport and carry.
The product is guaranteed against manufacturing defects for 2 years.
All parts can be easily disassembled and mounted.
- We pack orders daily which are picked up within 24-48 hrs depending on how busy we are.
- All shipping rates are automatically calculated at checkout.
- Most items are sent out with Australia post but some items including all cabinet incubators are sent with TNT couriers.
- Express shipping is not offered on the site due to items not arriving in the express shipping "window" being blamed on Brookfield Poultry Equipment.
Sed do eiusmod tempor incididunt ut labore et dolore magna aliqua. Ut enim ad minim veniam, quis nostrud exercitation ullamco laboris nisi ut aliquip ex ea commodo consequat.