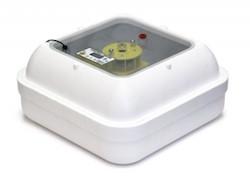 GQF - Hova-Bator - 1588 Genesis
We ship australia wide - cost calculated at checkout
Description
Shipping
Reviews
The GENESIS Hova-Bator is the top of the Hova-Bator range. Its 12 Volt system makes it perfect for use in classroom and laboratory settings. It is pre-set for bird eggs. Simply plug it in, then add water for humidity and eggs. While the thermostat set temperature can easily be fine tuned, most users won't find it necessary. The LCD will display set temp, actual temp and humidity percentage in both Fahrenheit and Celsius.
The pre-set microprocessor based thermostat digitally regulates itself.
Like all incubators, the GENESIS requires a stable room temperature and should not be used in areas like sheds. Excellent for classrooms, novices, and experts. Thermostat can be set to any temperature required for bird eggs and can also be set for reptile eggs down to 80F provided that the room temperature is low enough to allow it.
Includes picture window & plastic bottom liner. 
PLEASE NOTE THIS IS A MANUAL TURN UNIT BUT A UNIVERSAL EGG TURNER CAN BE ADDED AT ANY TIME: https://brookfieldpoultryequipment.com/collections/incubators/products/hova-bator-automatic-universal-egg-turner
- We pack orders daily which are picked up within 24-48 hrs depending on how busy we are.
- All shipping rates are automatically calculated at checkout.
- Most items are sent out with Australia post but some items including all cabinet incubators are sent with TNT couriers.
- Express shipping is not offered on the site due to items not arriving in the express shipping "window" being blamed on Brookfield Poultry Equipment.
Sed do eiusmod tempor incididunt ut labore et dolore magna aliqua. Ut enim ad minim veniam, quis nostrud exercitation ullamco laboris nisi ut aliquip ex ea commodo consequat.