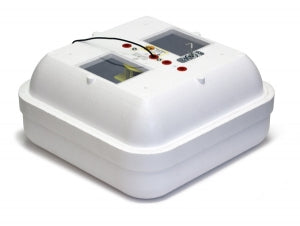 GQF - Hova-Bator - 2365 Circulated air
We ship australia wide - cost calculated at checkout
Description
Shipping
Reviews
GQF - Hova-Bator - 2365 Circulated air
One of our more popular small incubators due to it's price point and low power usage.

. 
Wafer thermostat
Fan circulation
Two windows provide visibility for monitoring hatches and temperature
Includes plastic bottom liner and thermometer 
Our most economical to run Hova-bator
Without an automatic turner in place, the incubator will hold 50 duck or chicken eggs or 130 quail eggs.
Lowest power usage of the Hova-bator incubators with 12V usage - 240v Australian plug with transformer down to 12V
Perfect for schools or when low site power available ie solar powered systems
PLEASE NOTE THIS IS A MANUAL TURN UNIT BUT A UNIVERSAL EGG TURNER CAN BE ADDED AT ANY TIME: https://brookfieldpoultryequipment.com/collections/incubators/products/hova-bator-automatic-universal-egg-turner
- We pack orders daily which are picked up within 24-48 hrs depending on how busy we are.
- All shipping rates are automatically calculated at checkout.
- Most items are sent out with Australia post but some items including all cabinet incubators are sent with TNT couriers.
- Express shipping is not offered on the site due to items not arriving in the express shipping "window" being blamed on Brookfield Poultry Equipment.
Sed do eiusmod tempor incididunt ut labore et dolore magna aliqua. Ut enim ad minim veniam, quis nostrud exercitation ullamco laboris nisi ut aliquip ex ea commodo consequat.