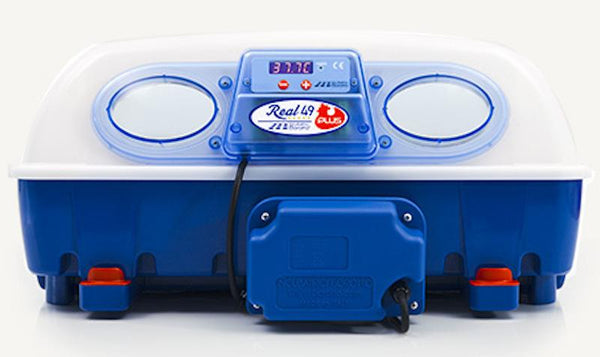 Borotto REAL 49 PLUS Incubator - Automatic
We ship australia wide - cost calculated at checkout
Description
Shipping
Reviews
REAL 49 PLUS is top of the REAL range incubator from BOROTTO. 
Super easy to operate & sets up in minutes! - comes pre-set so simply turn it on and add water and it's ready for eggs
Fully automatic turner rocks the eggs every two hours which improves hatch rates
Very easy to clean
Comes with a 2 year factory warranty
Egg trays can fit either small (quail) or large (duck) eggs in the same racks without having to change anything over.
Tested & certified for use in Australia & New Zealand
Comes factory fitted with Aus/NZ plug
The REAL 49 PLUS has all the features of the REAL 49 but also has:
The body is made using HEAT-RESISTANT ABS plastic, a material with superior mechanical resistance and insulation, with BIOMASTER, a specific technological additive that significantly reduces and controls the growth bacteria to ensure constant production of healthy and strong chicks. 
Outside water channels have "dust stop" plugs
Fill the water levels up through two fillers on the outside of the incubator, which drastically cuts down humidity loss that would otherwise be wasted by opening (models with an internal basin have to be opened). The outside fillers are closed with special "Dust Stop" plugs, which are made of ABS polymer with BIOMASTER antibacterial silver ion additive. The plugs prevent the water from being contaminated by germs and dust, thereby keeping the area around the egg cleaner and more hygienic.  
Fully automatic turning
Fill water levels without opening the incubator (and letting out heat & humidity)
This incubator is suitable for hatching eggs from chickens, pheasant, guinea fowl, quail, grey partridge, partridge, duck, mallard, goose, turkey, peacock, coturnix, pigeon, rock partridge, exotic and predator birds eggs
0-49 normal-size eggs, or 196 small-size eggs (like quail eggs)
240V power supply
150 Watt maximum power
70 Watt consumption per day
digital temperature control display with decimal point
temperature range from min. 30° C to max. 40° C
electronic precision +/- 0.1 ° C thermostat 
one complete inclination every 1 hour egg turner
100 mm diameter turbine ventilation
high quality hardened steel resistor heater
58x57x25 cm - 6.8 Kg
Asynchronous silenced turbo motor
- We pack orders daily which are picked up within 24-48 hrs depending on how busy we are.
- All shipping rates are automatically calculated at checkout.
- Most items are sent out with Australia post but some items including all cabinet incubators are sent with TNT couriers.
- Express shipping is not offered on the site due to items not arriving in the express shipping "window" being blamed on Brookfield Poultry Equipment.
Sed do eiusmod tempor incididunt ut labore et dolore magna aliqua. Ut enim ad minim veniam, quis nostrud exercitation ullamco laboris nisi ut aliquip ex ea commodo consequat.