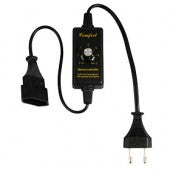 Chickplate - temperature controller
We ship australia wide - cost calculated at checkout
Description
Shipping
Reviews
The regulator WPR is specially designed for our chickplates , for all sizes - 15W, 22W, 42W, 50W & 60W to control from 20% up to 100% capacity of the chickplate.
use to bring temp down as the chicks get older

You can also use this regulator for NON-luminous heat sources.

The regulator is approx 650mm long and can be used up to 100 Watts. 

Please note:
This regulator can NOT be used for luminous heat sources (such as normal infrared lamps), because this regulator pulsates it's power supply and causes permanent flashes.
FACTORY FITTED WITH AUSTRALIAN PLUGS.
*please note controller in picture is a European version
- We pack orders daily which are picked up within 24-48 hrs depending on how busy we are.
- All shipping rates are automatically calculated at checkout.
- Most items are sent out with Australia post but some items including all cabinet incubators are sent with TNT couriers.
- Express shipping is not offered on the site due to items not arriving in the express shipping "window" being blamed on Brookfield Poultry Equipment.
Sed do eiusmod tempor incididunt ut labore et dolore magna aliqua. Ut enim ad minim veniam, quis nostrud exercitation ullamco laboris nisi ut aliquip ex ea commodo consequat.