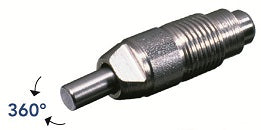 Monoflo - 10012 Stainless steel nipple drinker
We ship australia wide - cost calculated at checkout
Description
Shipping
Reviews
MONOFLO is a german company specialising in the manufacture and distribution of automatic drinking systems for livestock farming mostly for the poultry and pig industry.
High quality European made drinking systems.
Please note these nipples are commercial grade and can be disassembled easily and are designed for square pvc pipe. They can be used in other situations but 22x22mm pipe is the ideal size.
Nipple drinker, 1/8 "full stainless steel,
with 360 ° actuation
very smooth
Ideal for chicks and chickens, as well as layers and breeders
- We pack orders daily which are picked up within 24-48 hrs depending on how busy we are.
- All shipping rates are automatically calculated at checkout.
- Most items are sent out with Australia post but some items including all cabinet incubators are sent with TNT couriers.
- Express shipping is not offered on the site due to items not arriving in the express shipping "window" being blamed on Brookfield Poultry Equipment.
Sed do eiusmod tempor incididunt ut labore et dolore magna aliqua. Ut enim ad minim veniam, quis nostrud exercitation ullamco laboris nisi ut aliquip ex ea commodo consequat.